Workshops / Meetings
Three Workshops of the General Body have been held at NIT Warangal (19-04-15), NIT Kurukshetra (23-08-15) and NIT Jaipur (17-01-16) to discuss the framework and constitution and a eleven (11) member ad-hoc Governing Body have been constituted for the furtherance of PNAF registration as a society and other aims and objectives of the society.
Workshops: The workshops created the initial platform for setting up of the PAN Nit Alumni Forum. The activities of the Alumni Associations, the coming together, Roles and objectives of the PAN NIT were discussed.
Governing Body Meetings: Soliciting NIT Participations, Framing the Aims and Objectives, Identifying the Stakeholders and Mentors, Deliberations on Constitutional Amendments, Brand Building initiatives and Developing a Roadmap of activities were planned.
Zonal Meeting: Brand Building deliberations, Sharing of best practices, Policies and Programs, Use of technology for collaboration and Constitutional Amendments were discussed.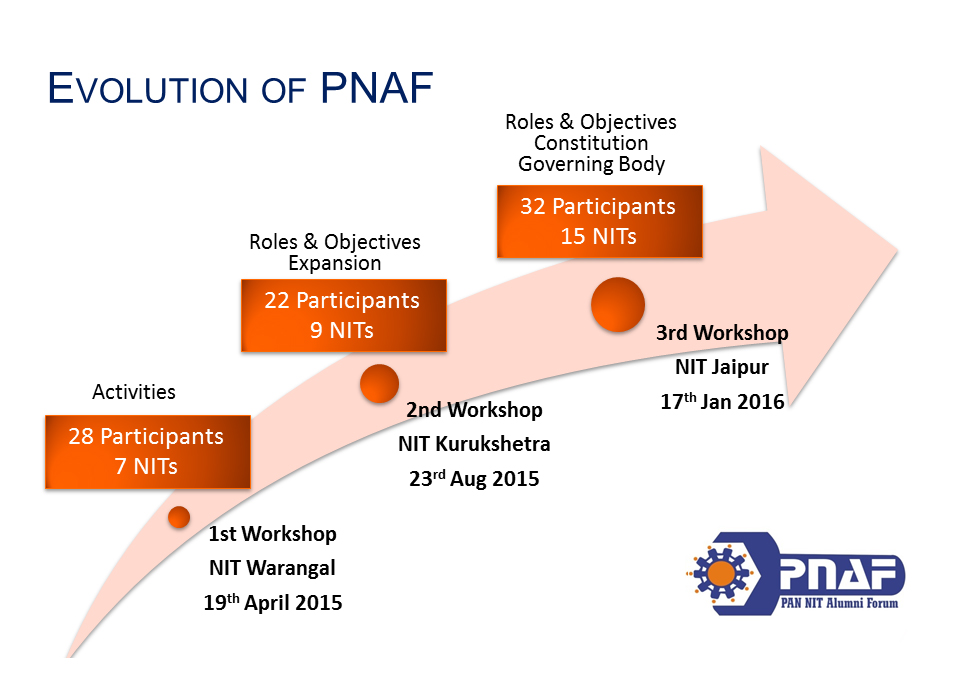 Constitution
The Constitution of PNAF was finalized along with the logo and submitted to the Registrar of Companies for the formation of the Society.
Documentation and Registration
PNAF was formally registered as a society at NIT Delhi address under Registrar of Societies, NCT of Delhi vide registration no. ROS/NORTH/SDM/NARELA/002/2016 dated 30-06-2016.
PAN No. AAEAP0001B has been obtained on 15-07-2016 and the Saving Bank Account No. 35960280359 of the Society has been opened on 30-07-2016 with the State Bank of India, New Delhi.